Victorian Village in Columbus Ohio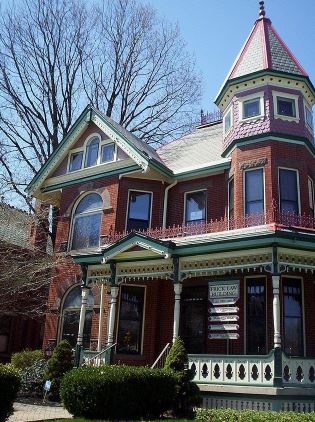 Victorian Village is a neighborhood in Northern Columbus Ohio just north of Interstate 670 between Highway 315 and N. High St. This neighborhood is North and near west of downtown Columbus and is an older area with a fair number of established homes, landscaping, and quaint urban setting. The main street running north and south through Victorian Village is Neil Avenue and continues on across the campus of the Ohio State University.
Originally purchased by the Neil family in 1827, the Victorian Village community was farmland north of downtown and by 1853, the Neil family owned all of the land west of N. High St. to Olentangy River. The family constructed a road on this vast property to reach the farm, which became known as Neil Avenue. William Neil was considered a leader in Ohio although never a politician. His wife, Hannah Shwing, one of the city's most charitable contributors, is the founder of the Columbus Female Benevolent Society. They had five children including one of Ohio's first ladies, Ann Neil Dennison. After Neil's death, the land was given to the state, eventually becoming home to the future Ohio State University and by 1879 this community was a thriving center for Victorianism in the city.
More on the Victorian Village
Most of the homes in the village were originally built in the early 1900s. This village has seen the ebb and flow of the last few decades and today, the Village is one of the most attractive in the city. Many of the homes have been converted into a rented apartment and others remain historical landmarks.
In the center of Victorian Village is Goodale Park, surrounded by elaborate Victorian-style homes. Floral medians are found lining many of the village streets in the park is a beautiful landmark in the center of this historical district.
Victorian Village consists of a diverse group of residents made up of families, singles, homeowners and renters. The annual Victorian Village Tour of Homes and Gardens features over a dozen homes in this area opening their doors for people to walk through and admire. Fundraisers, dinners, and events are often held during this annual tour. Image by Columbus site Wiki Commons
Homes in this part of Columbus start at about $130,000 and can reach as high as $600,000 depending on size, condition and location. Some of the more historical homes that have been renovated and kept up may go for more. In addition to homes, there are rental properties, condominiums and home conversions that might fit your lifestyle and your budget better. To learn more about this area or to view all homes and listings please give me a call or browse the website for more details.
Contact a Victorian Village Realtor®