Powell Ohio

Powell Ohio is located about 20 minutes north of downtown Columbus between Lewis Center and Plain City just north of Dublin and Worthington. Located in Delaware County, Powell is home to about 12,000 residents and was first settled in 1801. Originally named Middlebury, Powell was renamed in 1857 when Judge Thomas Powell established the first post office in the community and the residents decided to adopt his name. Powell became an incorporated municipality in 1947 and people expanding from the northern Columbus area settled in Powell.
Powell is listed as #18 of the top 100 best places to live in the United States by CNN Money and Money magazine.
Start search Powell real estate below or search by price range. At Vision Realty we offer all real estate services for North Columbus including but not limited to Powell. We look forward to helping you buy or sell real estate in Powell OH.
Newest Powell Real Estate Listings
September 27, 2023
Homes for Sale in Powell Ohio
Powell is an upscale bedroom community of Columbus noted for its historical central business district featuring antique shops, retail outlets, and several upscale luxury neighborhoods. Powell contains the neighborhoods of:
Bainbridge Mills, Bayhill Dr, Baypoint, Big Bear Ave, Big Bear Farms, Bishopsgate, Bradford Ct, Brewster Ln, Calumet Farms, Daventry Park, Deer Run, Donerail Ave, Emerald Lakes, Falcon Ridge, Golf Village, Grandshire, Highmeadows Village, Hyatts/Steitz/S Section, Liberty Hills, Liberty – Jewett, Liberty Lakes, Loch Lomond, Lower Jewett, Lucy Depp Park, Menderes, Murphy's Park, Murphy Traditions, Olentangy Libert, Olentangy Rv Rd Highbanks, Orchards at Big Bear, Retreat, Chase, Sherborne, Riverbend, Scioto Reserve Seldom Seen Acres, Shawnee Hills, Smokey Ridge Estates, Summitview Woods, The Reserve at Scioto Glenn, Wedgewood Westchester, Western Hills, Woodbridge Green, and Woods of Seldom Seen.
Homes in these neighborhoods start at about $120,000 and can reach as high as $10 million depending on size, condition, amenities, location, and lot size.
Powell Schools
Powell Ohio is part of the Olentangy school district. The schools in Powell are some of the top-rated in the Columbus area. The highest reviewed and rated schools include Olentangy Liberty High school, Olentangy Liberty middle school, and Tyler Run elementary school. Other top middle schools include Indian Springs Elementary school and Scioto Ridge elementary school as well as Hyatts middle school.
The Olentangy high school offers an 89% in proficient reading and 91% in proficient math with a 19:1 student to teacher ratio and several academic programs and educational services.
"OLHS gives each student the opportunity to explore their own possibilities and create a very welcoming and supportive environment."

"Liberty is a very large school with a very large student body. I found myself able to join clubs that felt right to me and brought me many of my closest friends. Liberty isn't perfect. There were problematic teachers and students that made the experience less than ideal, but overall I enjoyed my time at Liberty." - Niche.com
Nearby
Powell is home to typical Midwestern restaurants and supermarkets but there are very few industrial or financial businesses due to the resident's desire for a more hometown and quaint feel. But close by in Liberty Township, the Columbus Zoo and Aquarium as well as several Indian Caverns and entertainment facilities exist.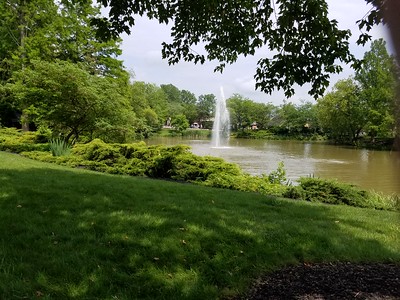 Powell has a thriving Parks and Recreation department that strives to create community through people, parks and programs. There are more than 200 diverse year-round recreational programs to the city's parks and facilities. The department urges residents, locals and tourists alike to enjoy the more than 12 miles of trails and 85 acres of parkland featuring numerous opportunities for walking, jogging or simply enjoying the outdoors. Powell provides numerous summer camps, Little League teams, swim teams, leisure guides and recreational athletics throughout the year.
Powell is also home to numerous events year-round including St. Patrick's Day events, Easter egg hunt, Liberty Trail Festivals, runs, Memorial Day parades, children's summer concerts and holidays in the park. There's always something to do and on several days throughout summer you can enjoy downtown Powell Street markets from 9 AM to 4 PM on various Saturdays.
Homes for Sale in Powell Ohio
At any given time there are roughly 300 to 350 homes and properties for sale throughout Powell. The average listing price is currently $438,000 with a median sales price of $243,000. Powell offers a variety of homes, condominiums, and luxury of states to choose from providing an easy commute route and perfect suburban neighborhood.
For more information on Powell real estate, local news and information or for a list of current properties for sale that fit your search criteria and price give me a call.
Contact a Powell Realtor®