Tips for Financing a Home that Needs Some Work
Posted by Donald Payne on Tuesday, August 2, 2022 at 3:13 PM
By Donald Payne / August 2, 2022
Comment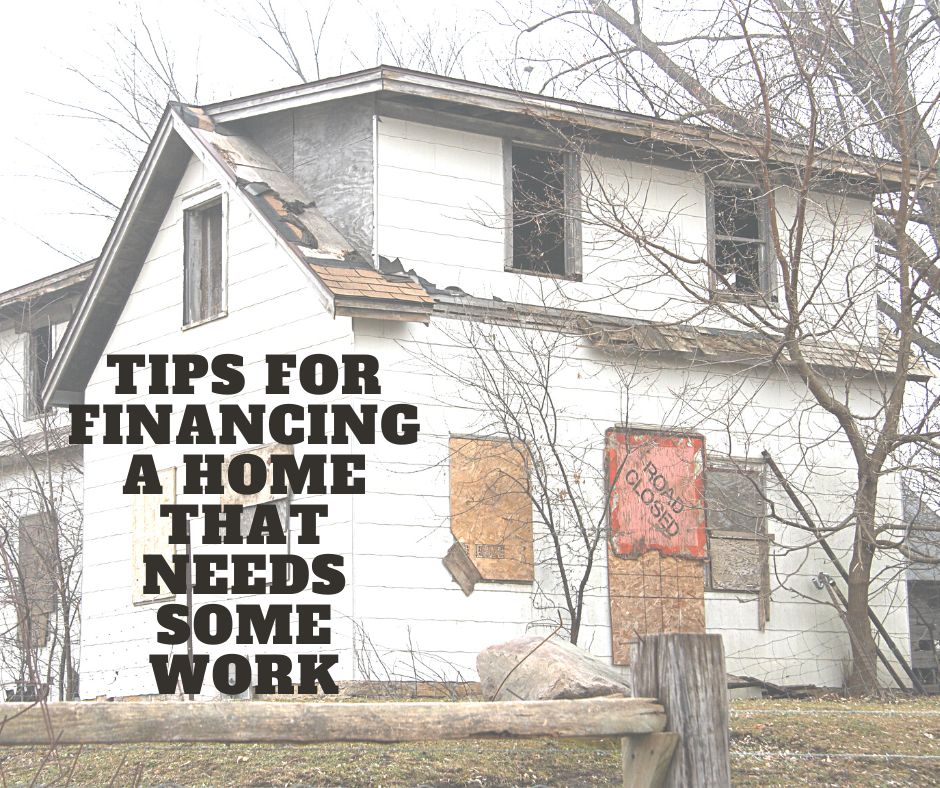 While interest rates continue to rise those purchasing a home currently may be looking for different options in finding a home where the mortgage payments remain affordable.
One option that some homebuyers have turned to is purchasing a home at a lower price point that may need some work to get it in top condition. Numbers have shown that currently, fixer-upper homes have increased in inventory over the past year.
If you are a home buyer that is not scared of putting a little bit of work into a home to make it your own you may be able to benefit from rolling the cost of some of the home improvements into your total loan amount.
Here is how you can finance a home and renovations with one loan
Apply for an FHA 203K loan
This is a loan through the Federal Housing Administration that offers mortgage borrowers a way to purchase and renovate a fixer-upper. This is unlike a traditional FHA loan as it finances both the purchase price of the property and the cost of repairs and renovations. There are two types of FHA 203K loans known as limited and standard.
A limited FHA 203K is intended for a home in need of just a few minor repairs or improvements costing no more than $35,000. These projects might include a kitchen remodel, interior paint, or installing new floors. This type of loan will not cover any structural repair or basement conversion.
A standard loan is meant for major repair and rehabilitation projects to make a home safe and livable again. This can include items like replacing the roof or making repairs to plumbing work. This type of loan however will not cover things like swimming pool construction.
Conventional renovation loans
There are some traditional conventional loan programs that some lenders will offer backed by Fannie Mae and Freddie Mac. These include the Fannie Mae Homestyle Loan and the Freddie Mac Choice Renovation Loan.
With the Fannie Mae loan, borrowers can borrow 75% of the sum of the purchase price for rehab costs or 75% of the completed appraised value after renovations whichever is less. For the Freddie Mac program there is a similar 75% renovation threshold but there is also a streamline version of this loan for buyers looking for a smaller rehab budget.
The nice thing about these loans is that they can be used for any type of renovation there are no limits and parameters to the type of work the money can be used for.
VA rehab loan
This is a loan offered to active and retired military personnel that meet certain service requirements at the Department of Veterans Affairs. A VA rehab loan allows borrowers to purchase a home with 0% down and without mortgage insurance and it lets you roll the cost of improvements into your mortgage amount.
A VA renovation loan allows the borrower to borrow up to 100 percent of the home's estimated value after the work is complete. This renovation money is only able to be used for repairs and upgrades necessary to improve the safety and livability of the property. This can include projects like replacing a heating system or an electrical system. Rehab loans will not permit funds to be used for major structural repairs that include a teardown or a rebuild.
Finding a home that needs a little bit of work at a lower price point and financing the cost of repairs could be a way of getting into a home that you truly want without paying a price you cannot afford.
For more information on purchasing a home in Columbus and surrounding areas please contact us anytime.
More tips for Home Buyers